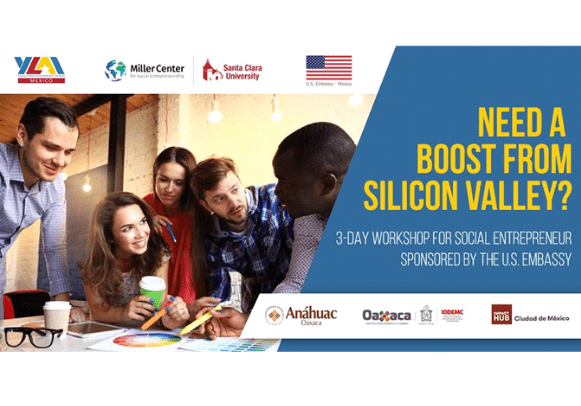 ¡Tenemos una invitación de La embajada de Estados Unidos en México!
Dear entrepreneur,
We invite you to apply for the Miller Center's GSBI® Boost Program from Santa Clara University. This is a merit based social entrepreneurship training sponsored by the U.S Embassy Mexico, and the cost of the program will be covered for the selected ventures.
The Miller Center is the largest and most succesful university – based social enterprise accelerator in the world. Founded in 1997, Miller Center is one of the three Centers of Distinction at Santa Clara University, located in the heart of Silicon Valley. The Global Social Benefit Institute (GSBI®), a pioneer in social enterprise capacity development, has continuously improved its methodology since its founding in 2003. The lessons GSBI has learned from working with over 1000 social enterprises are broadly applicable to capacity development efforts across sectors and geographies. GSBI® has become a leading, comprehensive program for social enterprise capacity development worldwide. Its suite of stage-specific programs for early and mid-stage social enterprises, along with its network of partners, collectively serve hundreds of impact organizations annually.
The GSBI® Boost packs core business lessons into a powerful 3-day workshop, helping early-stage social entrepreneurs learn business fundamentals, improve their strategic thinking, and articulate a business plan that demonstrates impact, growth, and long-term financial sustainability. By the end of the workshop, you will have the strategies and materials to grow your enterprise in a financially sustainable manner and apply for the funding and capacity building programs you need to reach the next level of growth.
We seek up to 25 social venture leaders who:
Lead an existing for-profit, nonprofit, or hybrid social enterprise
Deliver solutions that impact vulnerable, low-income and/or underserved populations in Mexico
Have, or plan to have, an earned income component to their business model
Mas información: